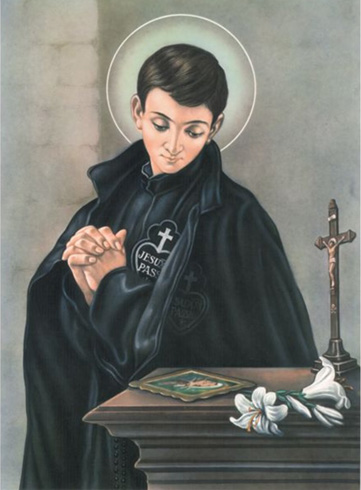 The Life of Blessed Gabriel of Our Lady of Sorrows
by Rev. Hyacinth Hage, C.P., 1910
In the life of the youthful Passionist now presented for the first time to American readers, the excellence of the religious state is plainly set forth in a more than ordinary degree. A child of our own times, whose days barely cover twenty-four years of the middle of this expiring century, the sanctity of the Bl. Gabriel Possenti has been made illustrious by the wonders wrought at his grave since 1892. His early life presents this unique feature, that it contained no presage of his future holiness until he crossed the threshold of his cloister-home. The five short years in which the work of his spiritual perfection was accomplished, were spent in the obscurity of the retreat, devoted to the performance of common duties, as if God wished to emphasize once more in the eyes of the world, the sanctifying efficacy of the religious state.

Whilst showing the excellence of the religious life, it is hoped that this little book will be an encouragement to those whose vocation is in the world, showing them that holiness is not to be sought for in wonderful deeds, but rather in the ordinary duties of life when sanctified by the love of God: in this alone, essential perfection consists.--Preface



The above work was published in 1910, before St. Gabriel of Our Lady of Sorrow's canonization by Pope Benedict XV. in 1920. His Feast Day is celebrated on February 27th--in leap years, on February 28th. He is the Patron of Students, Youth, Clerics and Seminarians.




To download the entire book, click on the link below.
Download the book, "The Life of Blessed Gabriel of Our Lady of Sorrows"
http://catholicharboroffaithandmorals.com/