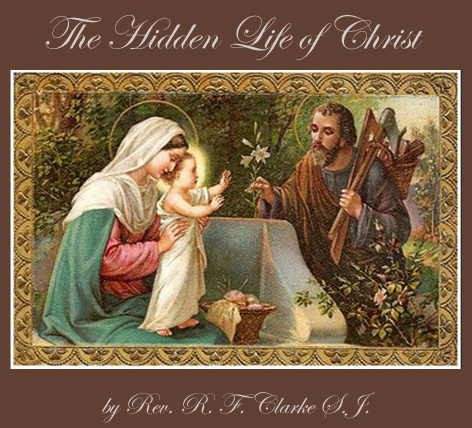 February 3rd: The Cottage at Nazareth



On the return of the Holy Family from Egypt, St. Joseph, under the guidance of Almighty God, chose Nazareth as the home. It was a town of ill-repute, one of the very last that St. Joseph would have been inclined to select as a fitting home for Jesus and Mary. But he knew that it was the will of God that they should dwell there, and that was the only consideration that had any weight with Joseph. Is this the only one that has any weight with me?

At Nazareth began what we generally know by the name of the Hidden Life of Jesus. It comprises all the period from the return from Egypt until the beginning of His Public Life. It extends nigh over thirty years, whereas the Public Life extends only over three years. This was to teach us that the Hidden Life with God is the important element in our spiritual life, and that all external work is of little moment compared to this.

It seems strange at first sight that the Son of God should choose for Himself a town like Nazareth. But He had come to be the Friend of sinners, and to save sinners; and so it was but natural that He should dwell among sinners and those whom the world thought scorn of from the beginning. How little it matters where we dwell; if we have a humble and contented spirit, we shall make ourselves happy anywhere.






Music: The Shepherds' Farewell
from L' Enfance du Christ Op. 25
by Hector Berlioz



1. Thou must leave Thy lowly dwelling,
The humble crib, the stable bare.
Babe, all mortal babes excelling,
Content our earthly lot to share.
Loving father, Loving mother,
Shelter Thee with tender care!

2. Blessed Jesus, we implore Thee
With humble love and holy fear.
In the land that lies before Thee,
Forget not us who linger here!
May the shepherd's lowly calling,
Ever to Thy heart be dear!

3. Blest are ye beyond all measure,
Thou happy father, mother mild!
Guard ye well your heav'nly treasure,
The Prince of Peace, The Holy Child!
God go with you, God protect you,
Guide you safely through the wild!