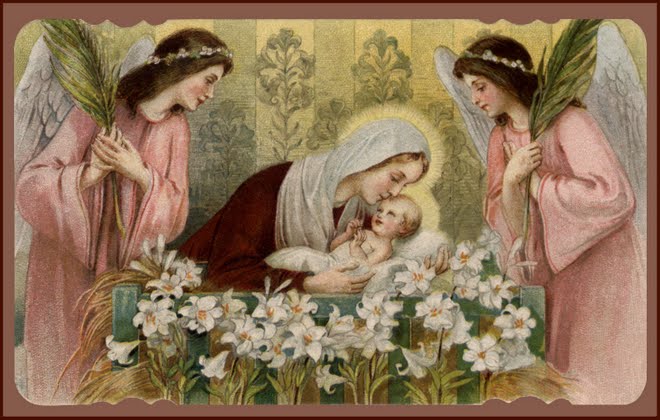 Hymn: Te, Mater alma
Sweet mother of the Lord most high,
To thee we bow in humble prayer,
To thee from evil powers we fly;
O shield and keep us in thy care.
It was to lift our fallen race
Above the curse of Adam's crime,
The king bestowed on thee all grace
And shaped thy Motherhood sublime.
So, Mother, unto thee we pray;
Thou seest our need; thy Son entreat
That He, His anger turned away,
May raise our souls in mercy sweet.
All glory, Jesus, unto Thee,
Born of the Virgin void of stain;
The same to Sire and Spirit be
Proclaimed through one eternal reign.
Amen.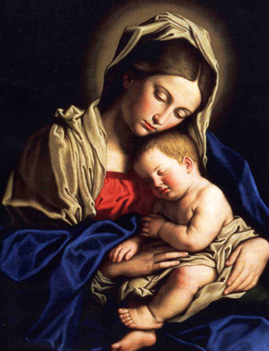 Prayer for the Blessing of a Conception
Our Father Who art in heaven! You have instituted and consecrated the marriage state that the human race may be preserved on earth according to Your decree:

"Increase and multiply and fill the earth." You have called me to this holy state and to Your call I gave my word of consent on my wedding day.

Almighty God, I beg of You, through the merits and through the intercession of the Blessed Virgin Mary, Mother of God, and her holy mother, St. Anne, to bless our marriage with children. Look down, O Father in heaven, upon our anxious longing and give Your blessing to our earnest prayer. In deep gratitude I shall regard every child, with which You will bless me, as a gift of Your great goodness and I shall bring them up in Your service in order that Your Holy Name may be praised from generation unto generation and be glorified for all eternity. Amen.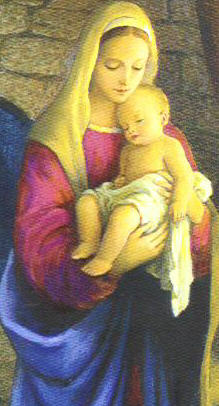 Prayer for a Happy Delivery
to the Blessed Virgin Mary
O Mary, most pure Virgin and Mother of God! I remind you of that blessed moment when you saw for the first time your newly born Babe and folded Him in your arms. Through this joy to your maternal heart, obtain for me the grace that I and my child may be protected from all dangers to soul and body. Amen.

O Mary, Mother of my Savior! I remind you of the unspeakable joy you received when, after three days of painful seeking, you again found your Divine Son. Through this your great joy, obtain for me the grace to bring into the world a healthy and well-formed child. Amen.

Most glorious Virgin Mary! I remind you of that heavenly joy that flooded your maternal heart when your Son after His resurrection appeared to you for the first time. Through this your exceedingly great joy, obtain for me the happiness that, by holy Baptism, my child may be admitted to the society of your Divine Son and that of all the Saints! Amen.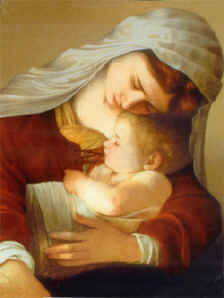 Prayer for One in Childbirth to the Blessed Virgin Mary
Hail, O Queen of Heaven, Mother of Mercy, Consolation of life, and Joy of them that love you! To you do we cry for this poor sufferer. In your maternal goodness, take pity on her. Abandon her not in her pains, since she reposes a childlike confidence in you. Through your own blessed delivery and your Divine Son, stand by her and rejoice her with a happy delivery, that she may gratefully praise your mercy!

In all our troubles and necessities, we fly to you for help. O Blessed Virgin Mary. Amen.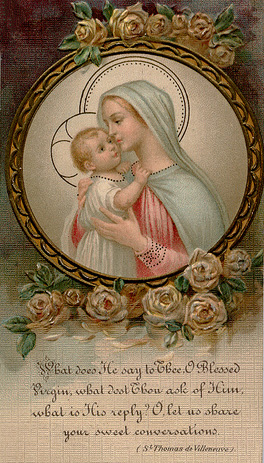 Prayer in Thanksgiving for a Happy Delivery
O Most Holy Trinity, Father, Son, and Holy Ghost, I, Your unworthy servant, with my whole heart praise and thank You for this, that You have, in Your goodness and mercy, preserved me in so great danger and rejoiced me with this dear little babe. I magnify Your infinite love and most gracious providence, and I offer to You, for the dear child You have given me, all the pains and sufferings that I have endured. I am firmly resolved to rear it for You, to train it in the faithful observance of Your Commandments. O good God, bless me and my little one! Preserve us from all evils of soul and body. May it ever be Yours, and may we love You with all our heart!

I salute you, holy Guardian Angel of my child! You have been appointed by the most loving Father in Heaven to be its leader, protector, and guide. I return you heartfelt thanks for all the good you have already done and will continue to do in behalf of my little charge. For the sake of your own love and blessedness, be to it a watchful protector through life. Keep far from it every temptation of the world, the flesh, and the devil. Cease not to pray for and to guard my child until it shall have reached heaven, there, with you and all the angelic host, to eternally praise and glorify the Most Holy Trinity. O Good Angel, hearken to a mother's prayer! Attend to my supplications for this poor child, so dear to you, and do for us both all that your angelic love can desire or inspire for our temporal and eternal welfare. Amen.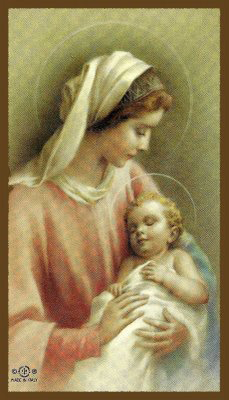 Prayer to the Blessed Virgin for the New-born
O Mary, Immaculate Mother, I beseech you by the joy which you experienced at the birth of Jesus, your Divine Son, take under your protection all children who will be born today throughout the whole world. Obtain for them the grace of Holy Baptism, protect them without ceasing, and on the day when they first receive the God of Love, let their still pure and innocent hearts understand the heart-beats of the Eucharistic Heart of Jesus and unite themselves with It forever. Amen.
Offering of a Child to God after Baptism
Behold, Heavenly Father, this precious gift of Your goodness, my dearly beloved child, whom even before its birth I already offered to You! By holy Baptism, You have raised it to the state of grace, have regenerated it, and made it Your own child. I give and dedicate it anew to You. With all my heart, I devote it to Your service, Your love, and Your good pleasure. Would that I could offer and consecrate it to You with a heart as sincere, as pious, and devout as was that of Elizabeth when she offered St. John to You, as was that of Anne when she consecrated to You her immaculate child, as was that of Mary when she sacrificed to You her only, her Divine Son!

Take, O Father of Jesus Christ, this child for Your own! Possess it as Your own property. Keep it safe under Your constant protection from every grievous sin, and grant that it may never fall from the state of grace in which You have placed it. May it carry the robe of baptismal innocence, adorned with which it now lies before me, to Your Judgment seat, where it will have to render an account of its earthly pilgrimage.

Gladly do I accept all the care and trouble which its support, its protection, and its education will entail. All that You will require of me on its account, I shall willingly bear, through love of You and of it. Grant me only Your grace, for without that I can do nothing toward advancing its true welfare. Stand ever at our side with Your paternal love, that I may gain for myself the reward of a good mother, and that this Your beloved child, may, like its Divine Model, increase in wisdom and in grace, and in years, before You and all good men! Amen.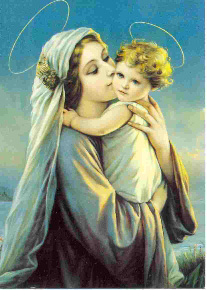 Prayer of Mothers for Their Children
O Good God, we thank You, that You have given us children, made them heirs of heaven by holy Baptism, and entrusted to us their training. Penetrate us with a sense of our responsibility; assist us in the care of their health, but especially in the preservation of their innocence and purity of heart. Grant that we may teach them early to know and serve You, and to love You, with their whole heart. Grant that we ourselves may carefully avoid all that we must forbid them, and may assiduously practice all that we should teach them. We commend them, O God, to Your paternal care and to the guardianship of Your holy angels. Bless our efforts, O heavenly Father, and let our children develop to Your honor and persevere in virtue till the end! Amen.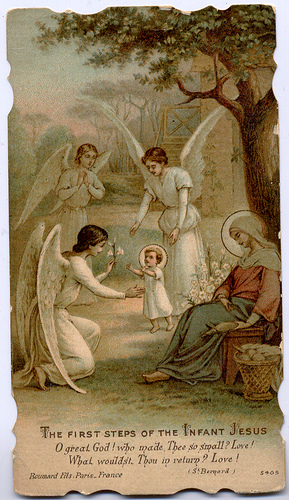 A Mother's Prayer to the Guardian Angels of Her Children
I humbly salute you, O you faithful, heavenly Friends of my children! I give you heartfelt thanks for all the love and goodness you show them. At some future day I shall, with thanks more worthy than I can now give, repay your care for them, and before the whole heavenly court acknowledge their indebtedness to your guidance and protection. Continue to watch over them. Provide for all their needs of body and soul. Pray, likewise, for me, for my husband, and my whole family, that we may all one day rejoice in your blessed society. Amen.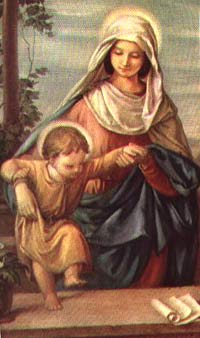 Prayers to St. Gerard Majella
Against the Forces of Anti-life
Great Wonderworker of our day, St. Gerard, Powerful protector of the mother and the unborn child, beg God, we beseech you, to conquer the horrible forces of anti-life, and to enlighten those in error that they may understand the deadly malice of their sin and return to the observance of His holy law. Pray, also, for mothers that they may highly cherish their wonderful prerogative of motherhood and bring up their children in the holy love and fear of God for the salvation of their own souls and to the eternal praise and glory of His name. Through Christ our Lord. Amen.

Let us Pray:

Almighty eternal God Who in Your all-wise Providence have deigned to raise up St. Gerard Majella to be the glorious protector of the mother and the unborn child, grant we beseech You through the powerful intercession of this Your servant that the doctrine of anti-life may be destroyed from the face of the earth forever, so that the Christian family may again flourish to the eternal praise and glory of Your most holy name. Through the merits of Jesus Christ, Your Son, our Lord, Who lives and reigns with You in the unity of the Holy Ghost, one God, forever and ever. Amen.

(Three Hail Marys and Three Glorys.)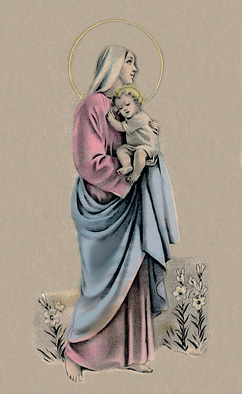 A Mother's Prayer for Her Sick Infant
O infinitely merciful God, with contrite hearts we acknowledge before You that we have deserved not only this, but far more grievous suffering! My family and I have often and deeply offended Your infinite justice and holiness. It is but right that we should be chastised. But, notwithstanding, we fly to Your paternal Heart to implore Your mercy, to beg for a remission of our indebtedness. Behold this innocent child, Yours by far stronger claims than ours! Release it from suffering. It could not yet offend You. Ah, free it from pain! The grace of holy Baptism is still all its own. O bless Your tenderly loved child! With the Blood of Your Son it was dearly purchased. O then, for Jesus' sake, take pity on it. It is the pure and unprofaned temple of Your Holy Spirit.

We are firmly resolved never more to commit sin and, for the rest of our life, we will serve You with fidelity and gratitude. Have mercy, good Father, on my poor sick child, and restore it to health! You can do all things. If You will it, this sickness will disappear. One word from You, and health will be restored. I promise to train it carefully to the utmost of my ability, to use every means to make it know, love, and serve You. Assist me by Your grace to preserve it in innocence, to fortify it in all the virtues. But if, O Heavenly Father, You foresee that it will ever deviate from Your Commandments and lose its precious soul, rather take it at once to Yourself in heaven. I would far rather see it die in its innocence than behold it a victim of sin and eternal damnation. Amen.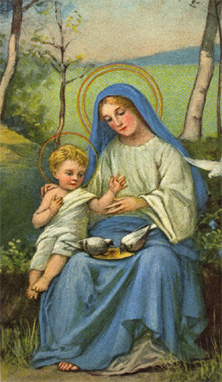 Consecration of a Family to the Mother of God
(St. Alphonsus)
O Blessed Virgin, Immaculate Queen of Heaven, Mother of Sorrows, refuge and comfort of all the afflicted! Kneeling before your throne with all my family, I choose you as our Mistress, Mother, and Advocate with God. I consecrate myself and all belonging to me forever to your service, and I implore you, O Mother of God, to number us among your servants. Take us under your protection, assist us during life and especially at the hour of death.

Mother of Mercy, I choose you as the Lady and Mistress of my entire household: my parents, my husband, my children, my cares, and my duties. Disdain not to take charge of them, and direct everything as seems good to you. Bless us all, and permit not that anyone of us should ever offend your Son. Protect us in temptation, preserve us in danger, help us in trouble, counsel us in doubt, assist us in sickness, and especially at the hour of death. Permit not the evil one to boast that anyone of us now consecrated to you has ever fallen into his net. Obtain for us the crown of eternal happiness, that we may thank you while praising and loving Jesus Christ, our Redeemer, for all eternity.   Amen.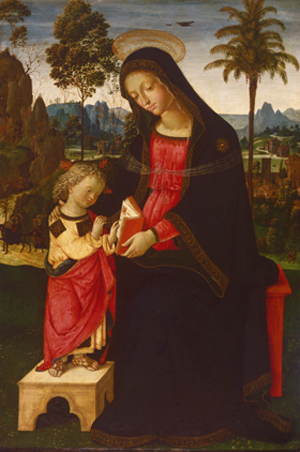 Remember, Christian Mother, you and your children should this day:
   1. Serve God by keeping His Commandments.
   2. Imitate Jesus Christ by practicing the Christian
       virtues.
   3. Honor and invoke the angels and saints.
   4. Save a soul.
   5. Avoid hell.
   6. Gain heaven.
   7. Slight transitory things.
   8. Expiate sins.
   9. Subdue evil inclinations.
1O. Perform good works.
11. Edify your neighbor.
12. Be prepared to die and stand before the
      judgment-seat of Jesus Christ.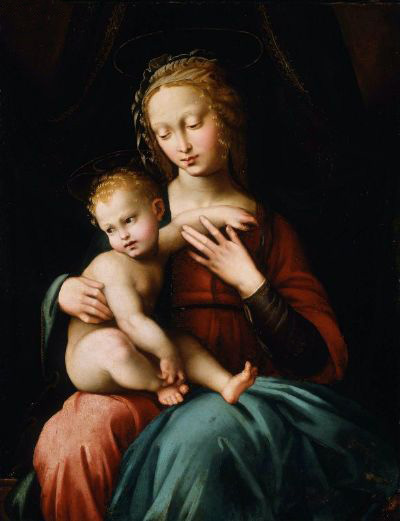 Prayer in all needs to Our Blessed Lady
Remember, O most gracious Virgin Mary, that never was it known that any one who fled to your protection, implored your help, and sought your intercession, was left unaided! Inspired with this confidence, I fly unto you, O Virgin of virgins, my Mother! To you I come. Before you I stand, sinful and sorrowful. O Mother of the Word Incarnate, despise not my petitions, but in your mercy hear and answer me! Amen.
http://catholicharboroffaithandmorals.com/