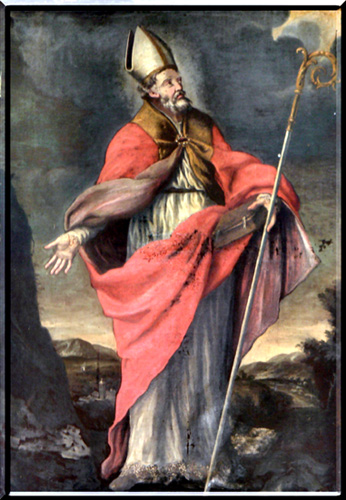 St. Anselm, Archbishop of Canterbury
by Fr. Francis Xavier Weninger, 1876
Anselm, the celebrated Archbishop of Canterbury, in England, was born in Piedmont in the year 1033. He was gifted by nature with brilliant talents and a large, comprehensive mind. When he was hardly fifteen years of age he was desirous of entering upon a religious life, but he was not, admitted, as it was feared that it would provoke the wrath of his father and his noble relatives. This refusal was so deeply regretted by Anselm, that he fell into a grievous illness, which renewed his determination to enter a monastery. On his recovery, however, he forgot his resolution, and not only did he lose all inclination to enter the religious state, but he began to lead a much more worldly life than he had done previously. It was fortunate for him that, to a certain extent, he had lost his father's love and was treated by him rather harshly. Not being able to endure this, Anselm left home, hoping that his absence might restore to him his father's affection. He therefore proceeded to France, where he remained three years. Suddenly his desire to study, which had lain dormant in his mind so long, was reawakened, and hearing that the celebrated Doctor Lanfranc, his compatriot, instructed young men in sacred science, in an abbey not far distant, he went to him and begged to be admitted among the number of his disciples. Lanfranc consented, and Anselm made such rapid progress in his studies that he soon left all others behind him.

During this time, he renewed his zeal in the practice of piety and virtue, and also his determination to give his life entirely to the Almighty. In pursuance of it, he received the habit, at the age of twenty-seven, in the Abbey of St. Benedict, where he had studied; and after having passed through his novitiate he took his vows. How eanestly he strove after spiritual perfection is evident from the fact, that three years after he had taken the vows, he succeeded Lanfranc, his teacher, as Prior of the same abbey, the latter being called as Abbot to another monastery. Several, who had been longer in the order than he, envied and persecuted him on account of his promotion, but the exquisite gentleness, patience and humility of Anselm soon won him all hearts; and changed envy and jealousy into love and respect. His holy life added much to their veneration. He fasted almost daily, and his body became fearfully emaciated. By his constant mortification he lost all relish for food. During the day, he instructed others in sacred science and in the mysteries of the faith. The greater part of the night he passed in prayer and meditation. He attended, before all his other affairs, to the sick, day and night, and wherever he was needed. He fed them, and lifted them in and out of their beds with his own hands. The most tender devotion he bore to our crucified Saviour, and often wept bitterly when he thought how our Redeemer, notwithstanding all His sufferings for us, is so frequently and so deeply offended. His aversion to sin was so intense, that he several times said that he would rather cast himself into hell, than commit a mortal sin. He shunned carefully the least thing that he thought was displeasing to God; because nothing is little which offends the Most High, and often from something which appears in itself of small importance, eternal happiness or damnation depends. He also was much devoted to the Blessed Virgin, and was one of the first who defended by the pen her Immaculate Conception. Besides this, he wrote many other works in praise of the Divine Mother, and endeavored to incite others to pay her due honors.

After the death of the Abbot, Anselm was unanimously elected as his successor, although he did what he could to prevent it. Invested with this new dignity, he changed not in the least his mode of life, unless he was more fervent than ever in all his devotional exercises. The fame of his sanctity and erudition spread abroad daily more and more, so that he was not only esteemed by the prelates of the Church, as well as by kings, but also by Pope Gregory VII, who, harassed on account of the sad condition of the Church at that period, recommended himself several times to the prayers of the Saint. Some business appertaining to his convent called Anselm to England, and as his name was already well known there, he was everywhere received with the greatest honor. While he was, in England, Lanfranc, who after being instructor to Anselm, had become Abbot and then Archbishop of Canterbury, died; and the king, without hesitation, chose St. Anselm to be his successor, and although the Saint most earnestly declined, he was at last obliged to yield to the influences of the clergy. He shed many bitter tears during his consecration, but once installed in his new functions, he went zealously to work to change the depraved manners of the people by preaching, writing instructive works and holding Councils.

Everything was going well, when the king himself caused great disturbances. He took forcible possession of a great deal of property belonging to the Church, and would not consent that, during the division which at that time existed in the Church, any one else but himself should be regarded as the head thereof. St. Anselm courageously protected the rights and liberties of the Church, and opposed, with manly independence, the wicked oppression and evil designs of the king. Hence the unscrupulous counsellors of the king persecuted him, banished his friends, deprived him of his revenues, and tormented him in manifold ways, thinking thus to intimidate him, and make him pliable to the king's wishes. But they were mistaken. The Saint remained inflexible, and was willing rather to die than in the least to swerve from his duty. Believing that the wrath of the king would be sooner appeased if another occupied his See, he went to Rome and humbly requested the Pope to release him from his Archbishopric. The Pope, however, refusing his request, endeavored to reconcile him with the king, and meanwhile made use of the knowledge and talents of the holy man in his warfare against the heretics and schismatics. After sometime, Anselm went to Lyons, in France, to escape the honors which were tendered to him at Rome. While there, King William of England, who had so violently resented the Saint's protection of the rights of the Church, died an unhappy death. He was hunting, and the excitement was just at its height, when the fatal arrow of a French officer piercing his heart, sent him, without a moment for repentance, into eternity. Indescribably grieved was St. Anselm on nearing this news, and he said more than once, that he would willingly give his life, if with his blood he could save the soul of the unhappy monarch. Before the intelligence of the king's death had reached Lyons, Hugh, the holy Abbot of Cluny, said to St. Anselm : "King William stands accused before the judgment seat of the Most High, and is already judged and sentenced to the eternal fire."

On the death of King William, the crown fell to his son Henry, who, warned by the example of his father, endeavored to ameliorate matters. He abolished the intolerable investitures, was gracious and kind to all, would neither have anything to do with the property of the Church, nor lay hands on the income of the clergy. As he knew how great the consideration was that St. Anselm enjoyed among all right-minded people, he recalled him to England and received him very graciously. But this behavior was of short duration, and before long the Archbishop had again to make a journey to Rome to seek protection for the rights of the Church, which Henry, like his father, commenced to violate. The Pope granted the Saint all he requested, all that justice demanded, but when the king heard of it, he forbade the Archbishop to return to his See. Anslem, therefore, repairing once more to Lyons, remained there sixteen months. While there he daily celebrated the Holy Mass, and offered many prayers and penances for the conversion of the king and the salvation of the whole land. Meanwhile all England wished for the return of her sheph§rd, and the king's sister rested not in her endeavors until her brother was appeased and allowed him to come back. After the holy man had returned to his See, he strove with all his energy to employ his few remaining years for the benefit of his flock. Thus he passed three peaceful years.

When he was no longer able to say Mass, he caused himself to be carried into the Church, that he might at least be present at the holy sacrifice, for which he had always evinced the deepest veneration. After having received the holy sacraments on Wednesday in Holy week, he requested to be laid, clad in a penitential robe, on the ground upon ashes, and while they read to him the Passion of our Lord, he peacefully expired, in the seventy-sixth year of his age. The many miracles which were wrought at his tomb caused the fame of his sanctity to be spread abroad through the whole of the Christian world.
Practical Considerations
I. St. Anselm had such a deep horror for sin that he used to say: "If I saw on one side, sin, and on the other, hell, and were compelled to choose between them, much rather would I cast myself sinless into hell, than commit the sin." He feared sin more than hell. Thus speak and judge those who know what sin is, and how great its wickedness. How do you speak and judge of sin? How great is your horror of it? Your conduct is your answer. You thoughtlessly commit one sin after another, perhaps to avert a slight injury, or a small temporal evil, or to gain some trifling advantage, or obtain some fleeting pleasure. Would you thus act, if you had a real horror of sin? Surely not. But why have you no real horror of sin? The whole reason is, I believe, simply this: You do not comprehend its indescribable wickedness. If you understood it rightly you would despise it as much as Anselm and all other Saints have done. Pray, therefore, like the blind man in the Gospel, fervently to God: "Lord, that I may see" (Luke xviii.). Give me grace to come to the knowledge of the wickedness, the horror of sin. "The beginning of salvation is to know our sins and to weep over them: "writes St. Jerome.

II. St. Anselm abhorred not only mortal sins, but also venial sins: not only because they also offend the Majesty of God, but also, because eternal happiness or misery often depends on what seems to be but trifling. From this, draw for today the following lesson. The damnation of a man often depends on what appears to be but a trifle; as, for instance, when one commits a venial sin voluntarily, not immediately chasing away wicked thoughts, or omitting to do a good action. A man who does this may go on gradually, until he commits a great sin and goes to perdition. The damnation of many a man began with what he thought a trifle. St. Chrysostom is of opinion that the damnation of Cain and Saul began with small offenses. Cain sacrificed to God only things, of little value, and when he saw that the offering of Abel was more acceptable to God than his own, he became jealous, killed his brother, and ended in despair and damnation. Had his sacrifice been such as to please the Lord, the rest would not have followed; he would not have committed the crime, and not have gone to hell. In the case of King Saul, an act of disobedience--apparently small--was the beginning of sins so great, that they ended in eternal damnation; as the above-mentioned holy teacher says.

As the death of the body is often occasioned by the merest trifle, as, for instance, by drinking cold water when over-heated, or by a slight wound, so sometimes a small act is the first step to eternal destruction. The neglect of being present at a sermon seems to be a slight omission, but I have no doubt it was for many the beginning of their eternal damnation. If they had heard the sermon, they would have come to the knowledge of their iniquity, and might have done penance. Having neglected it, they remained in their sin and have lost heaven. The same may be said of other trifling things. What, however, is the result? St. Chrysostom answers this question in the following manner: "Those who fall into the greatest sins, began with committing small ones. Therefore we must avoid not only great sins, but also those that are small, yes, shun whatever in the least leads to wrong, doing and never omitting, either by carelessness or idleness, the good we may be able to perform."



Prayer of Saint Anselm to the Blessed Virgin Mary
We beseech thee, O most Holy Lady, by the favour that God did thee, in raising thee so high as to make all things possible to thee, with Him, so to act, that the plenitude of grace, which thou didst merit, may render us partakers of thy glory. Strive, O most merciful Lady, to obtain us that for which God was pleased to become man in thy chaste womb. O lend us a willing ear. If thou deignest to pray to thy Son for this, He will immediately grant it. It suffices that thou willest our salvation, and then we are sure to obtain it. But who can restrain thy great mercy? If thou, who art our Mother, and the Mother of Mercy, dost not pity us, what will become of us when thy Son comes to judge us?

Help us then, O most compassionate Lady, and consider not the multitude of our sins. Remember always that our Creator took human flesh of thee, not to condemn sinners, but to save them. If thou hadst become Mother of God only for thine own advantage, we might say that it signified little to thee whether we were lost or saved: but God clothed himself with thy flesh for thy salvation, and for that of all men. What would thy great power and glory avail us, if thou dost not make us partakers of thy happiness? O help us then and protect us: thou knowest how greatly we stand in need of thy assistance. We recommend ourselves to thee; oh, let us not lose our souls, but make us eternally serve and love thy beloved Son, Jesus Christ. Amen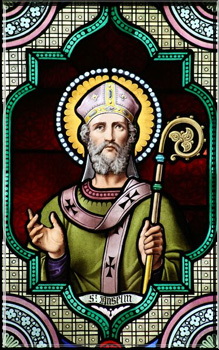 Remember not, O Lord, our offenses,
nor those of our parents; and take not revenge of our sins.

Lord, have mercy on us.
Lord, have mercy on us.
Christ, have mercy on us.
Christ, have mercy on us.
Lord, have mercy on us.
Lord, have mercy on us.
Jesus, receive our prayers.
Lord Jesus, receive our petitions.

O God the Father, Creator of the world,
Have mercy on England.

O God the Son, Redeemer of Mankind,
Have mercy on England.

O God the Holy Ghost, Perfecter of the Elect,
Have mercy on England.

O sacred Trinity, three Persons and one God,
Have mercy on England.

Holy Mary, Mother of God,
Pray for England. *

Holy Mary, Queen of Angels, whose powerful intercession destroyeth all heresies, *

Holy Mary, Virgin of virgins, whose eminent sanctity our Lord hath honored with so many miracles, *

St. Michael, prince of the church, *

St. Gabriel, glorious messenger of our Savior's Incarnation, *

St. Raphael, faithful guide of those who have lost their way. *

Holy angel, to whose pious custody this province is committed, *

All ye holy angels and blessed spirits of heaven, who celebrate with joy the conversion of sinners, *

St. John Baptist, precursor of the Messias, and great example of penance, *

All ye holy patriarchs and prophets, friends of God, and advances of His truth, *

St. Peter, prince of the Apostles, and supreme pastor of Christ's sheep, *

St. Paul, doctor of the Gentiles, who, of a persecutor, became a preacher, *

St. Andrew, first disciple of Christ, and constant lover of the cross, *

All ye holy apostles and evangelists, chief planters of the Christian faith, and zealous maintainers of Catholic union, *

St. George, our principal patron, *

St. Alban, our first martyr, *

St. Thomas of Canterbury, who, as a faithful shepherd, laidst down thy life in defense of the church, *

All ye holy martyrs of this nation, who voluntarily lost your lives here to find them in a joyful eternity, *

St. Gregory, most vigilant bishop of the universal church, whose pious zeal sent missioners from Rome for the conversion of our ancestors, *

St. Augustin, apostle of this nation, by whomour forefathers were reclaimed from paganism and infidelity, *

St. Bede, most venerable confessor, by whose religious life and learned writings the catholic faith was eminently propagated amounts us, *

All ye holy bishops and confessors, by whose wisdom and sanctity this island was once a seminary of religion, *

St. Helen, most holy queen and mother of the first Christian emperor, *

St. Ursula, most blessed martyr, who died in the glorious defense of faith and chastity, *

St. Winefride, most admirable virgin, even in this unbelieving generation still miraculous, *

All ye holy saints of this nation, who, amidst the innumerable joys of heaven, still retain a particular charity for the salvation of your country, *

All ye holy saints of all places, who, though divided here in several regions, were yet united in the same faith, and now enjoy one common felicity, *


Be merciful, O Lord, and spare us.
Be merciful, O Lord, and hear us.
From the dangers most justly threatening our sins, Deliver England, O Lord. **

From the spirit of pride, rebellion, and apostasy, **

From the spirit of hypocrisy, profaneness, and sacrilege, **

From presuming on their own private opinions, **

and contemning the authority of thy church, **

From schism, heresy, and all blindness of heart, **

From gluttony, drunkenness, and the false liberty of an undisciplined life, **


We sinners, beseech thee, hear us.
That it may cleanse thee to hasten the conversion of this our miserable country, and reunite it to the ancient faith and communion of thy church,
We beseech thee, hear us. ***

That it may please thee particularly to have mercy on our relations, friends, and benefactors, and open their eyes to see the beauty of thy truth, and embrace it, ***

That it may please thee to comfort and strengthen thy servants, who suffer for the Catholic faith, and not to permit the weakest--of us, by any temptation whatsoever, to fall away from thee and thy truth, ***

That it may please thee to assist with thy special grace those good pastors who ventured their lives for their flock, and daily augment in them the fire of thy love and the zeal of gaining souls, ***

That it may please thee to preserve the Catholics of this land from all sin and scandal, and so adorn their lives with solid piety, that others seeing their good works, may glorify thee our heavenly Father, ***

That it may please thee to enlighten the hearts of all schismatics, who live out of the Church, seriously to apprehend the danger of their state, and the great importance of eternal salvation, ***

That it may please thee mercifully to look down from heaven on the tears of the afflicted, and the blood of so many martyrs, who have spent their lives, and suffered death to convert us to thee, ***

Son of God, ***


Lamb of God, who takest away the sins of the world;
Spare us, O Lord.

Lamb of God, who takest away the sins of the world;
Hear us, O Lord.

Lamb of God, who takest away the sins of the world;
Have mercy on us.

Christ, hear us.
Christ, graciously hear us.

Let us pray.


Almighty and everlasting God, whose judgments are righteous and counsels unsearchable; who visitest the iniquity of the fathers upon the children, unto the third and fourth generation, and yet at length rememberest mercy; forgive, we beseech thee, the sins of our forefathers, and turn away thy wrath from their posterity: deliver the ignorant from being seduced by false teachers, and the learned from being abused by their passions, and the whole notion from the spirit of contradiction, licentiousness, and discord; that instead of so many divisions and changes in religion, under which they labour, they may be again restored to that unity of mind, steadiness of faith, and tranquillity of conscience, which is no where to be sought but in the communion of thy Church, nor possible to be found but by the conduct of thy grace. Through our Lord Jesus Christ.