by Fr. Francis Xavier Weninger, 1877
The Church presents for our imitation an illustrious example of virtue and sanctity in St. Casimir. He was of royal blood, born in the year 1458 at Cracow, the capital of Poland. His father was Casimir III., King of Poland, and his mother Elizabeth, daughter of Albert II., Roman Emperor. His parents omitted nothing to educate their child most carefully, and the remarkable inclination to virtue in the young prince led him to correspond faithfully to the efforts of his parents, and lay the foundation in childhood of his future holiness. He was very successful in his studies, which he made under the direction of John Herbuttus, a priest noted for his piety. His greatest pleasure was to pray, visit churches, and study. Whenever his preceptor desired to give Casimir a recreation, and asked what he preferred, his answer always was: "To go to a church and pray. To spend my time there, is more pleasing than to take part in hunts, games, dancing, or any other amusement."

Early in the morning he was the first to hasten to the church, where he often spent whole hours, more like an angel than a man. His fervor during the Holy Sacrifice was so great that he often appeared as if in ecstasy. It was frequently necessary to call him away from the temple of God, lest his health should suffer from his protracted devotions. As he advanced in years, he rose at night and secretly repaired to the church; if the doors were locked, he contented himself with kneeling outside. His posture during this holy exercise was kneeling or prostrate on the ground. His devotion to the sacred Passion of our Redeemer was so tender that he always was moved to tears at the mere mention of it, or by casting his eyes on the crucifix. He called the Blessed Virgin his dear mother, and he loved her as a child. In her honor he composed a touching hymn, which is in use even at the present day; it begins thus: "Daily, daily sing to Mary," etc. He repeated this every day, and asked to have it placed in the grave with him. To this veneration of our Lord and our Immaculate Lady he joined a most tender pity for the poor. He considered them as his children, and his kindness towards them merited for him the title of Father of the Poor. He recommended their affairs and troubles to his father, and begged that they would be speedily disposed of. Whatever he possessed he gave them. Some courtiers looked upon his conduct as unbecoming a prince. But Casimir said: "A true nobleman cannot respect his nobility more than when he serves Christ in the person of the poor. As far as I am concerned, my greatest satisfaction is to wait upon the most abject."

He valued worldly honors very little, as is evident from the following fact, amongst others. Uladislaus, his elder brother, was chosen King of Bohemia; and, shortly after this, messengers came from Hungary to demand Casimir for their king, in place of Mathias Hunniades, their lawful sovereign, who had been dethroned. Neither the father nor the son was willing to yield to their petition, but, the messengers threatening to call on the Turks for assistance, the father consented, and dispatched Casimir with a large army into Hungary to take possession of the throne. Mathias, who in the meanwhile had regained the affections of his subjects, was advancing with a numerous force against St. Casimir. The latter, who cared very little for an earthly crown, and who was still less inclined to purchase it at the cost of bloodshed, was overjoyed at this turn of affairs. He led his troops back to Poland, thanking God for having delivered him from so heavy a burden. Moreover, he learned the unsteadiness of earthly glory and distinction, and was more zealous in seeking the honors and possessions which the Lord has promised to His faithful servants.

To aid him in following out this object, he made use of a severity towards himself quite foreign to the general softness and ease of a royal prince. Under the royal robe, which he was obliged to wear according to his rank, he wore a rough hair shirt. He fasted several times a week, and was most exact in the observance of the days of fast and abstinence ordered by the Church, and this even when confined to his bed by sickness. He used to say that his disease had never been aggravated by abstinence, and if the other remedies were insufficient to restore his health, certainly dispensation from the precepts of the Church could not cure him. He gave only a short time to sleep, and, though he had a royal couch, he always preferred to take his rest on the hard floor. These and other virtues caused Casimir to be venerated as a Saint by the whole court. His angelic purity and his most anxious solicitude to preserve it untarnished has won for him a great name in the annals of the Church. As soon as he understood the greatness of virginal purity, he bound himself by vow to perpetual virginity. To enable himself to keep this promise, he employed constant prayer, the reception of the Sacraments, devotion to the Immaculate Virgin, and continual mortification of his senses; he likewise shunned every dangerous occasion and all suspicious company. Never would he utter any improper words, or allow them to be spoken in his presence. Thus, even amidst the easy life of the court and the many occasions of sin, he preserved his virginal purity unsullied to the very end of his life.

When he had reached the age of twenty-six, God visited him with a serious illness. After all medicines had proved ineffectual, the physician declared that there was only one remedy left to save the life of the prince. This was no other than that the prince should alter his determination about the preservation of his virginity. The physician and his friends advised him to marry. The prince, without the least hesitation, replied: " I would rather die than not live a virgin. If I had a thousand lives, I would sacrifice them all to remain a virgin." All efforts to alter his resolutions were in vain. The pious prince preferred to die, as he had lived, an angel in the flesh., He knew by revelation the day of his death. He carefully prepared for it. In his last moments he took the crucifix into his hands, saying: "Into Thy hands I commend my spirit," and expired. After a lapse of one hundred and twenty years, his body was taken up, and found without the slightest sign of corruption. The above-mentioned hymn to the Virgin Mary was likewise perfectly preserved. Poland and Lithuania, in their wars against the Turks, experienced the effects of the powerful intercession of St. Casimir. We pass over the various miracles wrought in favor of individuals, who were delivered from many evils by calling on the Saint for assistance.



Practical Considerations
The greatest delight of St. Casimir was to visit the church, to study, and to pray. To tarry in the temple of God was more acceptable to him than to engage in hunts, games, dances, or other diversions. The hours of the night he devoted to prayer, and while employed in this holy exercise his posture was always most respectful and devout. He joined to prayer, as we see in his life, a spirit of penance altogether foreign to a royal prince. What is your conduct in these two points? Casimir was the son and brother of kings. He lived at court in the midst of all imaginable comforts, which he might have shared as well as the rest. But he mortifies himself, and uses great severity against himself, being convinced that penance is necessary, or at least useful, for salvation in every station in life. Was he mistaken, or is the present comfortable world not wrong in hating abnegation and searching only after the pleasures of the senses? With which do you sideŚwith St. Casimir or the easy-going world? Now a few words on the other point. In what do you find your greatest delight? Do you love prayer? Do you prefer it to idle amusements? How long do you remain in the church? What time do you devote to prayer at home or in the church? Examine yourself on this, and then tell me, did St. Casimir, at the hour of death, derive more consolation from his devotion to prayer and study than if he had given up that time to the amusements of his age, which worldlings are only too eager to seize upon? What consolation will those anxiously-sought enjoyments bring you at that dread moment? Be solicitous in time, that you may not suffer regrets when it is too late.

St. Casimir was remarkable also for his tender devotion to our Lord crucified, and his Immaculate Mother. Hence his extreme care to protect his purity and virginity; he preferred to die, than live if it were impossible to preserve this precious gem. Are you attached to Jesus and Mary? Then also love the purity adapted to your state of life, for nothing is more pleasing in the sight of God than a chaste life. Greet the Virgin Mother with the hymn of St. Casimir, if you happen to have it. Show your affection for our crucified Redeemer, especially during Lent. With this intention daily read something concerning the Passion and Death of Christ, and recite prayers to Him; often cast your eyes on the crucifix; kiss it, and meditate upon the sufferings which the Saviour has undergone for love of you. I say for love of you, as St. Chrysostom writes: "It is just that each one give thanks to our Lord as if He had come into this world for his sake alone; and He loves each individual as much as He loves the whole world." Hence St. Paul says: "He loved me and delivered Himself for me"(Galat. ii.). " But how will you be thankful," says the same holy father, "for this great love of Christ? Whatsoever you do, you still fall short. Should you even shed your blood for Him, yet you would not requite His love for you. Do, therefore, what is in your power, and offer your most ardent desires of doing still more."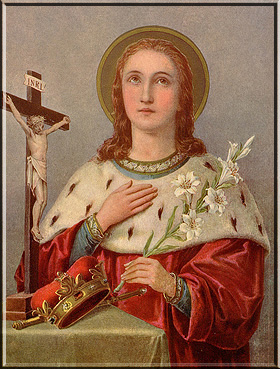 Novena Prayer to St. Casimir
May the Blessed Virgin Mary, Mother of God, and all the Saints intercede with God for us. The Lord hath made His Saints wonderful. And heard them when they cried unto Him.


LET US PRAY


Preserver us, we beseech Thee, O Lord, from all dangers to soul and body, and by the intercession of the Blessed and Glorious Mary ever Virgin, Mother of God, of St. Joseph, the holy Apostles Peter and Paul, of St. Casimir and all the Saints, in Thy mercy, grant us health and peace, that after all adversity and error is removed, Thy Church may serve Thee in freedom and safety, through the same Jesus Christ, Thy Son, Our Lord, Who liveth and reigneth with Thee in the union of the Holy Ghost world without end. Amen.
St. Casimir pray for us.


(Our Father, Hail Mary, Glory, etc. 3 times)
________________________________________
Prayer to Saint Casimir
O God, who didst preserve thy servant Casimir constant and faithful in thy service amidst the delights of a court, and the attractive allurements of the world, grant, we beseech thee, that by his intercession thy people may despise the transitory things of the world and eagerly pursue things which are eternal: through Jesus Christ our Lord.
Prayer to St. Casimir
Enjoy thy well-earned rest in heaven, O Casimir ! Neither the world with all its riches, nor the court with all its pleasures, could distract thy heart from the eternal joys it alone coveted and loved. Thy life was short, but full of merit. The remembrance of heaven made thee forget the earth. God yielded to the impatience of thy desire to be with him, and took thee speedily from among men. Thy life, though most innocent, was one of penance, for knowing the evil tendencies of corrupt nature, thou hadst a dread of a life of comfort. When shall we be made to understand that penance is a debt we owe to God, a debt of expiation for the sins we have committed against him? Thou didst prefer death to sin; get us a fear of sin, that greatest of all the evils that can befal us, because it is an evil which strikes at God himself. Pray for us during this holy Season, which is granted us that we may do penance. The Christian world is honouring thee today; repay its homage by thy blessing. Poland, thy fatherland, is in mourning; comfort her. She was once the bulwark of the Church, and kept back the invasion of schism, heresy, and infidelity; and now she is crushed by tyrants, who seek to rob her of her faith; pray for her that she may be freed from her oppressors, and, by regaining her ancient zeal for the faith, be preserved from the apostacy into which her enemies are seeking to drive her.
________________________________
The Hymn of St. Casimir
A Devout Hymn in honour of the Mother of God (ascribed to St. Anselm), which St. Casimir of Poland was accustomed daily to recite, and which, in the year 1604, at the renewal of his shrine, was found lying under his head.
DECADE I.
OMNI DIE DIC MARIAE

From day to day sing loud thy lay
To Mary's name, O soul of mine;
And freely praise her festal days
And actions of her life divine.

And let thine eyes, in glad surprise,
Gaze on her wondrous dignity;
Sing through the earth the Mother's worth,
And sing the Maiden's purity.

Oh, bend thee low, and pray that thou
Be lightened of thy weight of sin;
Call her to thee, lest the dark sea
Of sin divide and whelm thee in.

Her hand hath given the gifts of Heaven
To us who own her matchless worth;
A Queen Divine, her graces shine
Bright over all in Heaven and earth.

Come then, my tongue, raise high the song,
To her, the Maid and Mother too;
Who, by her Son, hath now undone
The early curse that wrought our woe.

This Queen of power (the world her dower)
Be the sweet subject of thy song;
Her graces fair, her glories rare,
Resound from thy exulting tongue.

Her peerless worth, from this time forth,
Let my conspiring senses sing;
By day and night my sweet delight
Shall be her blest remembering.

Thou wilt not find, 'midst all mankind,
A tongue of such rare eloquence,
Fit to repeat the praises sweet
Of Mary's sovereign excellence.

Yet all are free, in their degree,
God's Virgin-Mother to confess;
A joy to each, though none may reach
The height of her great worthiness.

Whoso are fain her love to gain,
With earnest mind her praise must sing;
For ever thus flow down to us
Rich streams from this thrice-hallowed spring.

Hail Mary.




DECADE II.
QUAMVIS SCIAM, QUOD MARIAM.

What though I know no tongue below
May rightly speak of Mary's grace;
Unwise the man, most vain, who can
Hear her sweet name and hold his peace.

Error and guile, each snare, each wile,
Her power doth ever bring to nought;
She shineth forth o'er all the earth
With Heaven's eternal wisdom fraught.

Her virtues rare, like flowerets fair,
Adorn the Church's garden-bed;
Her actions each, her every speech,
So many wondrous graces shed.

In early time, Eve's fatal crime
Did shut the gates of Paradise;
But our new Eve doth straight believe,
Obedient, and re-opes the skies.

Through sinful Eve mankind receive
The doom severe of banished men;
But Mary sweet our joyful feet
Leads to our happy home again.

Her then we love, and praise above
All creatures else in Heaven and earth;
To her we pray, and ceaseless pay
Our highest homage to her worth.

To her I sue, with reverence due,
Whose sovereign power I own with joy;
And meekly pray she chase away
Whate'er may work the soul's annoy.

Oh, may she give that I may live
Obedient to her Son's command;
And when my doom of death shall come,
Full in His blissful presence stand.

O fairest, best, O Queen confest,
O honour bright of woman's race,
Chosen of Heaven, to thee is given
To rise and take the chiefest place.

Mother most dear, incline thine ear
To us who sing these songs to thee;
Cleansed of our sin, help us to win
The life that lasts eternally.

O stately shoot of Jesse's root,
That bears the flower of hope Divine;
The world's clear light, its glory bright,
God's temple, yea, his inner shrine.

Hail Mary.




DECADE III.
VITAE FORMA, MORUM NORMA.

Virtue's best school, our truest rule,
Fulness of grace and blessedness,
The temple bright of living light,
Pattern of perfect righteousness.

Hail, Virgin blest, the gate of rest
Thou unto sinners openest wide;
Nor serpent's guile, nor crafty wile,
Could ever bend thy steps aside.

O wondrous fair, thy beauty rare
Hath smitten e'en the King Divine;
His chosen bride o'er all beside,
Fair daughter of King David's line.

O jewel bright, O lily white
Of purity, O fresh-blown rose,
Thou dost command the Virgin-band
That aye through Heaven rejoicing goes.

Oh, give me power, each changing hour,
By act and word to tell thy praise;
With willing tongue and boldest song
To sing of all thy perfect ways.

With earnest vow, I pray that thou
Be ever present to my mind;
That I may sing unwearying
Thy praises free and unconfined.

What though I know my lips are slow
And stained with much iniquity?
I'll boldly dare my part to bear
In the sweet songs that rise to thee.

Rejoice, rejoice, for every voice
Brings tribute due unto thy name;
Thou art confest the occasion blest
Through which our great Redemption came.

Pure as the dew, as fertile too,
Thou, a chaste Maid, dost bear a Child;
O stately palm, a healing balm
Breathes from thy flowers and fruitage mild.

Oh, still may we delighted be
With thy rich bloom and odorous breath,
Whose Fruit adored (our gracious Lord),
Hath freed us from the woes of death.

Hail Mary.




DECADE IV.
PULCHRA TOTA SINE NOTA.

Thou art all fair, thy beauty rare
Was ever spotless; grant that we
At every hour may sing thy power
With earthly hearts made chaste through thee.

O blest of Heaven, through thee are given
New joys this weeping world to cheer;
Through thee once more the heavenly choir
Stands wide to contrite sinners here.

Through thee the earth comes glorious forth
Exulting in the new-born light;
For now at last for aye are past
The shadows of the ancient light.

Well didst thou say one happy day:
"The lowly are exalted high,
The needy poor have food in store;"
So didst thou meekly prophesy.

Sin's devious ways, whose endless maze
Erewhile thy children's footsteps traced,
They tread no more; and thy sweet power
False doctrine far away hath chased.

Well hast thou taught to set at naught
The world and all its fleeting show;
Deny the flesh its wanton wish;
Seek God; and passion's pride subdue.

The mind lift high beyond the sky
In humble following of our Lord;
The body wear by fast and prayer
For Heaven's ineffable reward.

O Maiden chaste, thy womb embraced
The Lord, Redeemer of mankind;
And thus do we regain through thee
Our life, and our lost honours find.

A Mother true, a Maiden too,
Thou dost bring forth the King of kings
Who dwelleth high above the sky,
Lord over all created things.

Thrice blest, through whom to us doth come
The victory o'er our crafty foe;
And peace is given by pitying Heaven
To sinners sunk in hopeless woe.

Hail Mary.




DECADE V.
BENEDICTUS REX INVICTUS.

Blest is the King all-conquering
Whose Mother thou art owned to be;
Who brings our race its Saving Grace,
The Uncreated, born of thee.

Come thou, who best with comfort blest
Canst heal the sick and drooping mind,
Free us from all the woes that fall
On Satan's children, proud and blind.

Pray that my soul may reach the goal
Where saints their happy rest do take;
O Mother see, I never be
Plunged in the dark and fiery lake.

All that I seek, O Mother meek,
Is that thou heal each wound of mine;
And that my mind may ever find
In thee these gifts of grace Divine.

To be all chaste and sweetly graced
With modesty of sober life,
Of mind correct and circumspect,
Meek-hearted, gentle, hating strife;

A plenteous store of needful lore,
Drawn from the oracles of Heaven;
A filial awe to search God's law;
A life to contemplation given.

A purpose fixed, a sweetness mixed
With gravity; kind and benign,
Simple and pure, of thought mature,
A lowly patience like to thine;

That heavenly truth be in my mouth
And in my understanding heart,
All sin to hate, and venerate
My God with every pious act.

Oh, come, be thou our teacher now,
The helper of Christ's people here;
Grant us thy peace, a blest release
From strife with this world's godless will.

Star of the Sea, all hail to thee,
Safe guide through ocean's perilous ways,
The stars that rise to light the skies,
They pale before thy sovereign rays.

Hail Mary.




Decade VI.
TUA DULCI PRECE FULCI.

Support and cheer thy suppliants here,
And help us with thy pleading love;
Whatever weight doth aggravate,
Or warp our minds, do thou remove.

Be joyful now, blest Maid, for thou
Hast freed our souls from Satan's fraud;
Since from thy womb to us hath come,
In very flesh, our very God.

O Virgin pure, how rich a dower,
In thy dear Son, doth come to thee;
To nurse thy Child, yet undefiled
To keep the flower of purity.

Thou'rt still the same for Maiden fame;
And still thou art a Mother blest;
And He from whom thy life doth come
Is the Sweet Babe that seeks thy breast.

In grief I pine; but, Mother mine,
Come thou and give me of thy joy;
Come and impart to my sick heart
The remedy for which I sigh.

Deign to commend, O Mother-friend,
My anxious heart to Christ Thy Child;
So, though the world a wreck be hurled,
I may escape the waters wild.

Grant that my life be free from strife,
Meek and of perfect modesty:
Through all my days tread guileless ways,
In firm unwavering constancy.

Let not the chain of wishes vain
E'er twine around my captive heart;
Strive but to blind the hardened mind
Of those who choose the evil part.

Nor rage, nor hate, nor pride elate,
E'er hold my soul their captive slave;
Whence frequent flows a tide of woes,
That threatens all with whelming wave.

Oh, pray thy Child, that reconciled
This heart henceforth His law embrace;
And that the foe ne'er oversow
His tares, to choke the seeds of grace.

And give thine aid, O Mother-Maid,
Thy comfort sweet to all who join
Their songs to praise thy festal days
And actions of thy life divine.

Hail Mary.





________________________________________
The Liturgical Year, St. Casimir

by Fr. Prosper Gueranger
It is from a Court that we are to be taught today the most heroic virtues. Casimir is a Prince; he is surrounded by all the allurements of youth and luxury; and yet be passes through the snares of the world with as much safety and prudence, as though he were an Angel in human form. His example shows us what we may do. The world has not smiled on us as it did on Casimir; but, how much we have loved it! If we have gone so far as to make it our idol, we must now break what we have adored, and give our service to the Sovereign Lord, who alone has a right to it. When we read the Lives of the Saints, and find that persons, who were in the ordinary walk of life, practised extraordinary virtues, we are inclined to think that they were not exposed to great temptations, or that the misfortunes they met in the world, made them give themselves up unreservedly to God's service. Such interpretations of the actions of the Saints are shallow and false, for they ignore this great fact, that there is no condition or state, however humble, in which man has not to combat against the evil inclinations of his heart, and that corrupt nature alone is strong enough to lead him to sin.

But in such a Saint as Casimir, we have no difficulty in recognising that all his Christian energy was from God, and not from any natural source; and we rightly conclude, that we, who have the same good God, may well hope that this Season of spiritual regeneration will change and better us. Casimir preferred death to sin. But is not every Christian bound to be thus minded every' hour of the day? And yet, such is the infatuation produced by the pleasures or advantages of this present life, that we, every day, see men plunging themselves into sin, which is the death of the soul; and this, not for the sake of saving the life of the body, but for a vile and transient gratification, which is oftentimes contrary to their temporal interests. What stronger proof could there be than this, of the sad effects produced in us by Original Sin. The examples of the Saints are given us as a light to lead us in the right path : let us follow it, and we shall be saved. Besides, we have a powerful aid in their merits and intercession: let us take courage at the thought, that these Friends of God have a most affectionate compassion for us their Brethren, who are surrounded by so many and great dangers.

The Church, in her Liturgy, thus describes to us the virtues of our young Prince. Casimir was the son of Casimir, king of Poland, and of Elizabeth of Austria. He was put, when quite a boy, under the care of the best masters, who trained him to piety and learning. He brought his body into subjection by wearing a hairshirt, and by frequent fasting. He could not endure the soft bed which is given to kings, but lay on the hard floor, and during the night, he used privately to steal from his room, and go to the Church, where, prostrate before the door, lie besought God to have mercy on him. The Passion of Christ was his favourite subject of meditation; and when he assisted at Mass, his mind was so fixed on God, that he seemed to be in one long ecstacy.

Great was his zeal for the propagation of the Catholic faith, and the suppression of the Russian schism. He persuaded the king, his father, to pass a law, forbidding the schismatics to build new churches, or to repair those which had fallen to ruin. Such was his charity for the poor and all sufferers, that he went under the name of the Father and Defender of the Poor. During his last illness, he nobly evinced his love or purity, which virtue he had maintained unsullied during his whole life. He was suffering a cruel malady; but he courageously preferred to die, rather than suffer the loss, whereby his physicians advised him to purchase his cure, the loss of his priceless treasure.

Being made perfect in a short space of time, and rich in virtue and merit, after having foretold the day of his death, he breathed forth his soul into the hands of his God, in the twenty-fifth year of his age, surrounded by priests and religious. His body was taken to Vilna, and was honoured by many miracles. A young girl was raised to life at his shrine; the blind recovered their sight, the lame the use of their limbs, and the sick their health.

He appeared to a small army of Lithuanians, who were unexpectedly attacked by a large force, and gave them the victory over the enemy. Leo the Tent was induced by all these miracles to insert his name among the Saints.





The Roman Breviary
Great was his zeal for the propagation of the Catholic faith, and the suppression of the Ruthenian schism; wherefore he persuaded his father to pass a law forbidding the schismatics to build new churches, or to repair dilapidated ones. Such was his charity to the poor and all sufferers, that he won the name of father and defender of the needy. At the end of his life when critically ill, he bravely affirmed his regard for his virginity, which he had kept unimpaired from the cradle. Physicians advised him to seek relief from his sufferings by sacrificing his chastity, but he firmly determined rather to die.
Made perfect in a short time, and rich in virtue and merit, he foretold the day of his death and gave back his soul to God, in his twenty-fifth year, surrounded by priests and religious. His body was taken to Vilna, and is famous for many miracles. For not only was a dead girl raised to life, but the blind recovered their sight, the lame the use of their limbs, and persons with various ailments regained their health at his tomb; and he appeared in the sky to a small party of Lithuanians, who were afraid of a sudden attack by a large force, and gave them a remarkable victory. Leo X was induced by these miracles to add his name to the list of the Saints.