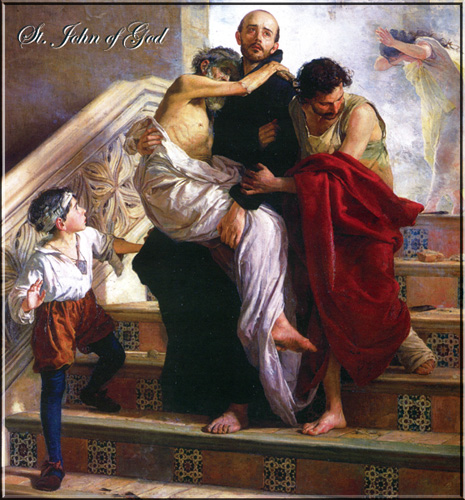 St. John, who didst deliver the poor and save the destitute, pray for us.
Litany of St. John of God
Lord, have mercy on us.
Christ, have mercy on us.
Lord, have mercy on us.
Christ, hear us.
Christ, graciously hear us.
God the Father of Heaven,
Have mercy on us.
God the Son, Redeemer of the world,
Have mercy on us.
God the Holy Ghost,
Have mercy on us.
Holy Trinity, one God,
Have mercy on us.
Holy Mary,
Pray for us.*
Saint John of God, who art our Father,*
St. John, who from thine infancy manifested such tenderness for the unhappy,*
St. John, faithful worker from thy youth,*
St. John, who didst understand the state of the poor and needy,*
St. John of God, who didst receive this name from the mouth of Our Lord,*
St. John, Man of Mercy, vowed to all kinds of good works,*
St. John, to whom God has confided the poor and little,*
St. John, who didst give liberally and with joy,*
St. John, who didst deliver the poor and save the destitute,*
St. John, feet of the lame,*
St. John, eyes of the blind,*
St. John, father of the needy,*
St. John, help of orphans,*
St. John, protector of virgins and widows,*
St. John, consoler of the afflicted,*
St. John, champion of the oppressed,*
St. John, physician for all complaints,*
St. John, joy of the sick,*
St. John, consolation of the dying,*
St. John, refuge of the miserable,*
St. John, furnace of charity,*
St. John, lover of chastity,*
St. John, meek and humble of heart,*
St. John, martyr by desire,*
St. John, model of patience,*
St. John, victim of penance,*
St. John, triumpher over demons,*
St. John, who didst merit the special assistance of the Blessed Virgin Mary, and of St. John the Evangelist,
Intercede for us.**
St. John, whom the Archangel Raphael often visited and helped,**
St. John, who didst expire on thy knees holding the crucifix,**
St. John, on the day of Judgment,**
Lamb of God, Who takest away the sins of the world:
Spare us, O Lord.
Lamb of God, Who takest away the sins of the world:
Graciously hear its, O Lord.
Lamb of God, Who takest away the sins of the world:
Have mercy on us, O Lord.
Pray for us, O our Father, Saint John of God.
That we may become your faithful imitators.
Let us pray:
Lord Jesus Christ, Who didst grant to Blessed John of God, our Patriarch and Thy faithful servant, so abundant a charity toward the poor, that he devoted himself to their service in becoming their Father: grant that we may serve Thy suffering members with a charity which may merit for us the reward of being united for ever in Heaven with Thee, our Divine Head, Who livest and reignest with the Father in the unity of the Holy Ghost for ever and ever. Amen.

O glorious Saint John of God! Full of compassion and tenderness for the afflicted! Thou, who as a reward for thy charity, didst merit to minister to Jesus Christ under the appearance of a pilgrim: obtain for us the grace ever to see Jesus Christ in the person of our neighbor, so that we may be found worthy to receive the eternal bliss promised to those who serve the Divine Master in the person of the sick. Amen.
______________________________
St. John of God, Founder of the Order of Charity
by Fr. Francis Xavier Weninger, 1877
St. John, surnamed of God, a Portuguese, was born at Monte Major. At his birth, an extraordinary heavenly light, in the form of a pillar of fire, was seen over his father's house, and the church bells were rung by invisible hands. At the age of eight he secretly left his father's house with a Priest whom his parents had entertained. The Priest, however, forsaking him on the road, he took service with a shepherd, and served him faithfully until he had reached his twenty-first year. His master then offered him his daughter in marriage, but John refused, and entered the army. Here, imitating his more lax comrades, he led an easy life. It happened that, while out foraging, he was thrown from his horse, and so badly injured that the blood flowed from his mouth and nostrils, and he lay insensible on the ground for two hours. On recovering, he raised himself to a kneeling posture, and, calling on the Queen of Heaven, he was soon restored to perfect health. On another occasion, being placed on guard over some captured booty, which the enemy retook, he was condemned to the gallows. The general spared his life, but ordered him to be ignominiously driven from the camp. Upon this, he returned to his former master and became a shepherd again. But soon wearied with this employment, he enlisted and fought against the Turks.

After this war was ended, he travelled to his native country in order to visit his parents. On his arrival he heard how his mother had died of grief, occasioned by his departure, and that his father had entered the Order of St. Francis. This news pierced the soul of John, and he determined to spend the rest of his days in penance--nay, he even resolved on going to Africa to shed his blood for Christ. He reached Ceuta, a city on the coast of Africa, in company with an exiled Portuguese nobleman. The nobleman, who had brought along his family, fell sick at this place, and he begged of John to postpone his projected journey and befriend him in this extreme calamity. John then worked as a laborer, and with his earnings supported the unfortunate family. Shortly after recovering, the gentleman was recalled from banishment, and the Saint, by the advice of his confessor, also retraced his steps to Spain, where he proposed to sell pious books. With this purpose, he bought an assortment of spiritual books and devotional pictures and sold them in the country places. One day John met on the road a poor barefooted lad, shivering with the cold. He took him up in his arms to bring him to a shelter. At first his burden appeared light, but gradually the burden became so heavy that he was obliged to sit down and rest. The boy then made himself known by displaying a pomegranate surmounted by a cross, saying, at the same time: "John, you will find your cross at Granada." After these words he vanished. John, moved by an interior impulse, proceeds to Granada, hears a sermon preached, on the feast of St. Sebastian, by the celebrated F. Avila, which so touched his heart with sorrow for his sins that he wept aloud.

He now began in earnest to lead a penitential life. A desire to humble himself and to court the contempt of the world, induced him to act for a time the part of a madman. He was, therefore, taken to the hospital, locked in a cell, and subjected to harsh treatment. F. Avila, hearing of this, ordered him to lay aside his assumed madness, and perform the will of God by assisting the poor and sick. He obeyed, and waited upon the inmates of the hospital. Very soon, however, he purchased a dwelling with the alms he had gathered, and fitted it up for the reception of the sick. He carried the infirm on his shoulders to this house, and received those who came with the greatest tenderness. He cheerfully procured food and medicine for the sick, waited on them by day and night with the most unwearied zeal, consoled them in their sufferings, encouraged them to patience, and, when there was danger of death, exhorted them to receive the last Sacraments. He never left their bedside until death had claimed its own. God also sent him companions, who followed his example with zeal and devotion. Thus did the Order of Charity begin, which afterwards spread over many countries and wrought the salvation of many souls. The clergy and laity were greatly pleased with this work of charity, and gladly assisted John with abundant alms. In asking alms, he always said: "Be merciful to yourself, and do good to yourself; for," he used to say, "almsgiving is of far more benefit to the donor than to the receiver." At other times he would exclaim: "Brethren, do good while you have time." Still abuse and injury from the ill-disposed were not wanting. St. John also had to suffer much from calumny and persecutions. This, however, did not prevent him from continuing his life of sacrifice. To his enemies his answers were always full of meekness, and thoughts of revenge were foreign to him. "If I wish to be saved," he would say, "I must pardon my enemies sooner or later; I will do it rather this moment.

Though he was meek and gentle to his enemies, tender and charitable towards the sick, towards himself he had only austerity; for he chastised his body by watching, fasting, and other penances. Prayer occupied all the time not employed in works of charity. Our Lord and His Blessed Mother frequently appeared to the Saint, while engaged in this exercise. Thus, our, Lady once showed him a crown of thorns and placed it on his head, with these words: "Through thorns and suffering, my Divine Son wishes you to merit the crown prepared for you in heaven." Hardly had these words been spoken, when acute pains seized the Saint over his whole body, but more particularly in the head. However, by meditating on the Passion of Christ, and the greatness of the future reward, he lessened his sufferings. On another occasion, he found a traveller lying on the road who seemed to be dangerously ill, and, transporting him to the hospital, he washed his feet and laid him in a bed. As he was about kissing the feet of the poor man, according to his usual custom, he remarked that they were transpierced. It was Christ Himself, under the form of a poor man, who spoke thus to St. John: "Whatever you do to the needy and suffering, I take as done to myself." At another time, he fell to the ground under the weight of a sick man whom he was carrying, and a beautiful youth helped him to arise. On being asked who he was, the reply was given: "I am the Archangel Raphael, commissioned by the Almighty to protect and guard you and yours."

In addition to the many great spiritual favors which the Saint had received, the Lord also gave him the gift of foretelling the future and of working miracles. I will relate only one example, taken from the Breviary. A great fire broke out in the hospital at Granada. St. John, fearlessly passing through the flames, went from room to room and brought out the sick, and saved much of the furniture, he himself escaping without the slightest harm, though he was exposed to the fury of the flames for half an hour. The flame of Divine love which burned in his heart surpassed the intensity of the material fire. By this great wonder, omitting many others, God wished to honor His indefatigable servant, but glorified him still more by calling him to receive his eternal reward. A burning fever attacked the Saint, but his patience was not at fault. He piously received the last Sacraments, after which he begged to be left alone for some time. Rising and dressing, he threw himself on his knees before the image of the Crucified; he took the sacred emblem in his hands and kissed it, exclaiming: "Into Thy hands, Jesus, I commend my spirit." On hearing these words, some rushed into the room, but found him dead, with the crucifix pressed to his lips. The dead body remained kneeling upright for six hours, exhaling a most sweet odor. His death took place March 8, 1550. The many miracles wrought through his intercession confirmed his sanctity, and have rendered him celebrated throughout all Christendom.



Practical Considerations
I. "I must forgive my enemies, sooner or later, if I wish to be saved; therefore I will do it immediately." This was the maxim of St. John, and it was most reasonable. In fact, instant compliance with whatever is required for salvation is the safest plan: delays are ever dangerous. But wrath against our neighbor has this peculiarity, that, if fostered, it strikes deep root in the heart, and becomes enmity and hatred. Besides, the longer it is cherished, the more difficult is the task of tearing it out, just as a tree whose roots have struck deep in the soil is harder to uproot than a sapling which has sprung up. Now, the Gospel plainly teaches that hatred and enmity must be laid aside, in order to be saved. The necessity is absolute. But if this be so, is it not more prudent to divest yourself of this sin now than later, when it will cost you more trouble? Hence, the Holy Ghost says: "Anger resteth in the bosom of a fool" (Eccl. vii.). The wise man does not carry it in his breast, but quickly rejects it,--at least, he does not allow the sun to set on his resentment, but follows the advice of St. Paul, who says: "Let not the sun go down upon your anger" (Eph. iv.).

II. Have pity on yourselves; do good! With this invitation, St. John asked for alms; for he declared by his expressions that, by giving alms, a person is charitable and merciful to himself, and, whilst pitying others, he also has pity on himself. "A merciful man doth good to his own soul" (Prov. xi,). A most important truth, of which St. Basil writes: "Just as the crop benefits the sower, so also the bread given in alms redounds to the benefit of the giver." In truth the charitable derive more advantages from the alms than the poor, who are the recipients; for the beggar obtains only a temporal and passing good, while the giver is repaid often by temporal favors, which God bestows as a reward; but he also reaps an eternal recompense, as Holy Writ so frequently promises heaven to those giving alms. "Give to the poor, and thou shalt have treasure in heaven" (Mark x.). This is still more evident from the words which Christ will one day address to the elect: "Come, ye blessed of my Father, possess the kingdom prepared for you from the foundation of the world. For I was hungry, and you gave me to eat; I was thirsty, and you gave me to drink," etc., etc.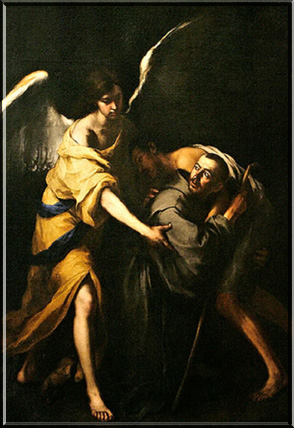 Prayer for a Sick Person Near Death
Almighty and Everlasting God, Preserver of souls, who dost correct those whom Thou dost love, and for their amendment dost tenderly chastise those whom Thou dost receive, we call upon Thee, O Lord, to bestow Thy healing. that the soul of Thy servant, at the hour of its departure from the body, may by the hands of Thy holy Angels be presented without spot unto Thee. Amen
A Short Recommendation to God
Into the hands of Thy unspeakable mercy, O Lord, I commend my soul and body; my senses, my words, my thoughts, and all my actions, with all the necessities of my body and soul; my going forth and my coming in; my faith and conversation; the course and end of my life; the day and hour of my death; my rest and resurrection with the Saints and Elect. Amen
Novena Prayer to St. John of God for the Sick
O God, by Whose power Blessed John, all on fire with Thy love, walked unhurt amidst the flames, and Who through him didst beget new progeny to Thy Church! Grant, we beseech Thee, that by virtue of his merits pleading for us, we may be healed of our sins in the fire of Thy charity, and obtain remedies that are eternal. Through Jesus Christ Our Lord. Amen.


Our Father, Hail Mary, Glory be etc.
______________________________
St. John of God, Confessor
by Fr. Prosper Gueranger, 1870
As was the feast of St. John of Matha, whose characteristic virtue was charity, our saint of today was like him: love for his neighbour led him to devote himself to the service of them that most needed help. Both are examples to us of what is a principal duty of this present Season: they are models of Fraternal Charity. They teach us this great lesson, that our love of God is false, if our hearts are not disposed to show mercy to our neighbour, and help him in his necessities and troubles. It is the same lesson as that which the Beloved Disciple gives us, when he says: He that hath the substance of this world, and shall see his brother in need, and shall put up his mercy from him, how doth the Charity of God abide in him?(I. St John, iii. 17.) But, if there can be no love of God, where there is none for our neighbour, the love of our neighbour itself is not genuine, unless it be accompanied by a love of our Creator and Redeemer.

The charity which the world has set up, which it calls Philanthropy, and which it exercises not in the name of God, but solely for the sake of man, this pretended virtue is a mere delusion, is incapable of producing love between those who give and those who receive, and its results must, necessarily, be unsatisfactory. There is but one tie, which can make men love one another: that tie is God, Who created them all, and commands them all to be one in Him. To serve mankind for its own sake, is to make a god of it; and even viewing the workings of the two systems in this single point of view, the relief they afford to temporal suffering, what comparison is there between mere Philanthropy, and that supernatural Charity of the humble disciples of Christ, who make Him the very motive and end of all they do for their afflicted brethren? The Saint, we honour today, was called John of God, because the Name of God was ever on his lips. His heroic acts of charity had no other motive than that of pleasing God; God alone was the inspirer of the tender love he had for his suffering fellow-creatures. Let us imitate his example, for our Lord assures us, that he considers as done to Himself, whatsoever we do even for the least of his disciples.




The Liturgy thus portrays the virtues of our Saint:
John of God was born of Catholic and virtuous parents, in Portugal, in the town of Montemor. At his birth, a bright light shone upon the house, and the church bell was heard to ring of itself;God thus evincing to what great things he destined this His servant. For some time he fell into a lax way of living; but was reclaimed by God's grace, and led a very holy life. His conversion was re-effected by his hearing a sermon, and so fervently did he practise the exerckes of a devout life, that, from the very first, he seemed to have attained the height of perfection. He gave whatsoever he possessed to the poor who were in prison. Extraordinary were the penances he inflicted on himself; and the contempt he had for himself induced him to do certain things, which led some people to accuse him of madness, so that he was for some time confined in a madhouse. His charity only increased by such treatment. He collected alms sufficient to build two large hospitals in the city of Granada, where also he began the new Order, wherewith he enriched the Church. This Order was called the Institute of Friars Hospitallers. Its object was to assist the sick, both in their spiritual and corporal wants. Its success was very great, and it had Houses in almost all parts of the world.

The Saint often carried the sick poor on his own shoulders to the hospital, and there he provided them with everything they could want, whether in soul or body. His charity was not confined within the limits of his hospitals. He secretly provided food for indigent widows, and girls whose virtue was exposed to danger. Nothing could exceed the zeal wherewith he laboured to reclaim such as had fallen into sins of impurity. On occasion of an lmmense fire breaking out in the royal Hospital of Granada, John fearlessly threw himself into the midst of the flames.

He went through the several wards, taking the sick upon his shoulders, and throwing the beds through the windows, so that all were saved. He remained half an hour amidst the flames, which raged with wildest fury in every part of the building. He was miraculously preserved from the slightest injury, and came forth to the astonishment of the whole city, teaching the people, who had witnessed what had happened, that, in the disciples of charity, there is a fire within their hearts more active than any which could burn the body.

Among the virtues wherein he wonderfully excelled, may be mentioned his many practices of bodily mortification, profound obedience, extreme poverty, love of prayer, contemplation, and devotion to the Blessed Virgin. He also possessed, in an extraordinary degree, the gift of tears. At length, falling seriously ill he fervently received the last Sacraments. Though reduced to a state of utter weakness, he dressed himself, rose from his bed, fell on his knees, devoutly took the Crucifix into his hands, pressed it to his heart, and kissing it, died on the eighth of the Ides of March (March 8th), in the year 1550. He remained in this same attitude, with the Crucifix still in his hands, for about six hours after his death. The entire city came to see the holy corpse, which gave forth. a heavenly fragrance. The body was then removed, in order that it might be buried. God honoured his servant by many miracles, both before and after his death, and he was canonized by Pope Alexander the Eighth.




Prayer:
What a glorious life was thine, O John of God! It was one of charity, and of miracles wrought by charity. Like Vincent of Paul, thou wast poor, and, in thy early life, a shepherd-boy like him; but the charity, which filled thy heart, gave thee a power to do what worldly influence and riches never can. Thy name and memory are dear to the Church; they deserve to be held in benediction by all mankind, for thou didst spend thy life in serving thy fellow-creatures, for God's sake. That motive gave thee a devotedness to the poor, which is an impossibility for those who befriend them from mere natural sympathy. Philanthropy may be generous, and its workings may be admirable for ingenuity and order; but it never can look upon the poor man as a sacred object, because it refuses to see God in him.
Pray for the men of this generation, that they may at length desist from perverting charity into a mere mechanism of relief. The poor are the representatives of Christ, for he Himself has willed that they be such: and if the world refuse to accept them in this their exalted character, if it deny their resemblance to our Redeemer, it may succeed in degrading the poor, but this very degradation will make them enemies of its insulter. Thy predilection, O John of God, was for the sick; have pity, therefore, on our times, which are ambitious to eliminate the supernatural, and exclude God from the world by what is called secularisation of society. Pray for us, that we may see how evil a thing it is to have changed the Christian for the worldly spirit. Enkindle holy charity within our hearts, that during these days, when we are striving to draw down the mercy of God upon ourselves, we also may show mercy. May we, as thou didst, imitate the example of our Blessed Redeemer, Who gave himself to us Who were his enemies, and deigned to adopt us as His Brethren. Protect also the Order thou didst institute, and which has inherited thy spirit; that it may prosper, and spread in every place the sweet odour of that Charity, which is its very name.
http://catholicharboroffaithandmorals.com/