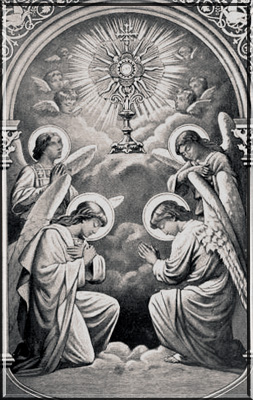 The Triumph of the Blessed Sacrament
or History of Nicola Aubry
by Fr. Michael Muller, C.S.S.R., 1877
"It is indeed a remarkable fact that, as the devil made use of Luther, an apostate-monk, to abolish the Mass and deny the real presence, in like manner God made use of his arch-enemy, the devil, to prove the real presence. HE repeatedly forced him publicly to profess his firm belief in it, to confound the heretics for their disbelief, and acknowledge himself vanquished by our Lord in the Blessed Sacrament. For this purpose God allowed a certain Mme. Nicola Aubry, an innocent person, to become possessed by Beelzebub and twenty-nine other evil spirits. The possession took place on the eighth of November, 1565, and lasted until the eighth of February, 1566."--Fr. Michael Muller

The background image is of the Cathedral of Laon, the place where the final exorcisms took place almost five hunder years ago.



To download the entire book, click on the link below. Alternatively, the book should be displayed below after a brief delay. If the book does not appear automatically, downloading the entire book, or opening in preview will be the best options.
Download the book, "The Triumph of the Blessed Sacrament
or History of Nicola Aubry"
http://catholicharboroffaithandmorals.com/